Electrical Safety and NFPA 70E® Arc Flash webinar training is designed to save lives, prevent disabling injuries, and prevent damage to plants, building and equipment.  Webinar training is ideal for refresher training or training for groups in remote locations.
Based on NFPA 70E®, students attending this course will gain an immense respect for the power of electricity. They will learn about personal safety for working on or around electrical systems and equipment, how to use proper materials and procedures for doing electrical work – and the potential consequences for themselves or others if they don't.
This course also helps companies' meet their OSHA training and Qualified Persons obligations as outlined in OSHA CFR 1910.331-335 and new NFPA 70E® standards that require training once every three years.
Read

More
Webinar Training Courses
Electrical safety training webinars designed to cover all your needs, including:
Unqualified Worker Electrical Safety Awareness Trailing
1/2 Day Webinar Electrical Safety Refresher Training
1 Day Webinar Electrical Safety Training
2 Day Webinar Electrical Safety Training
CEUs
After completion of training, students will receive a Certificate of Completion and .1 CEUs (Continuing Education Units) for each hour of class.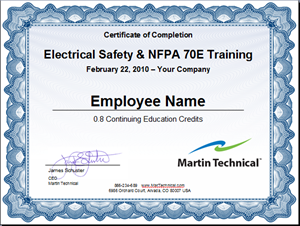 All training certificates will be stored by Martin Technical for future reference, validation and 3rd party documentation.
Read

More