Rapid LOTO Lockout Program
Advanced Lockout Tagout Program
Advanced Lockout / Tagout Program
Martin Technical's Rapid LOTO Lockout Program is the most advanced and comprehensive program in the industry.  We leverage our experience in maintenance and safety with today's technologies to provide a robust system designed for ease of implementation and easy to understand.
PROFESSIONAL LOCKOUT DATA COLLECTION
Our team of lockout experts assesses your equipment and develops lockout procedures using our proprietary system and software.
LABELING OF VALVES AND DISCONNECTS
Using mobile printers, we provide labeling of valves and disconnects required for lockout procedures.
Development & Approval of Equipment ID Scheme
Mobile label printer
Color Coordinated Valve and Handle Tags
RAPID LOTO ™ SOFTWARE
The program is based on an award-winning and proprietary software system developed by Martin Technical that allows faster and more accurate turnaround time for developing Lockout / Tagout procedures and placards.  Using hand-held tablets, our lockout experts can turn the lockout data into procedures by the next day. This rapid turnaround time keeps relevant information in hand and allows for quick corrections when needed.
Customer Control
Rapid LOTO lockout software as a service gives the customer a program stacked with features to manage your entire lockout program.  All data is hosted by Martin Technical, so there is no software to download.
VISUAL LOCKOUT PROCEDURE DEVELOPMENT
Our visual placards include smart graphics, color coordination, and photos making lockout procedures easy to follow. Lockout Tagout placards can be customized/arranged to include the data most important for your program.
LOCKOUT / TAGOUT TRAINING & CONSULTATION
After the Lockout / Tagout procedures have been implemented, your Martin Technical field engineer will provide Lockout / Tagout training for those who need it and will consult with management on any of the Lockout / Tagout program requirements.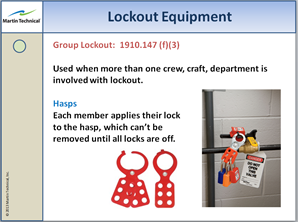 LOCKOUT AUDIT PROGRAM
Lockout programs need to be audited on a periodic basis.  Martin Technical provides several options for auditing your program, including our Rapid LOTO Audit app for internal auditing.