The Overhead Crane Operations and Rigging Training programs are meant for both beginner and experienced crane operators and riggers and is suitable for trainees, safety personnel, inspectors, maintenance teams, managers, and supervisors.
The courses address the foundation for safe overhead crane practices as well as Floor Cranes and Gantry Cranes.
Employees taking the rigging training section will  learn the basic rigging principles, determine load weights and how to turn loads. The classroom knowledge obtained during the courses will be reinforced with practical application exercises in order to create a more personal experience
All personnel attending this program will gain significant and useful skills and will leave with a stronger understanding and appreciation of the requirements and responsibilities of Overhead Crane Operators and Riggers.
Riggers and Overhead Crane Operators shall be Competent in accordance with OSHA's 29 CFR 1910: 179 & 184; and 29 CFR 1926.140; this course will satisfy the regulations requirements as well as ASME B30.5 Requirements.
Read

More
Training Objectives
After completing this lesson, participants will be able to:
Reference crane operation standards
Identify equipment components & terminology of cranes
Identify hazards involving the operation of cranes and rigging
Identify different types of and inspect wire rope
Read crane operating hand signals
Conduct an inspection of the equipment to assure that it is safe to operate
Demonstrate expertise in operation of the equipment
Explain how the design of the equipment affects the stability and safety
Reference rigging standards
Identify equipment components & terminology of rigging equipment
Properly use and apply different types of rigging equipment
Calculate load weight
Safely rig a load
Identify proper and improper rigging practices
Read

More
CEUs
After completion of this course, students will receive a Certificate of Completion and .1 CEUs (Continuing Education Units) for each hour of class.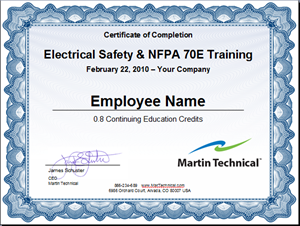 All training certificates will be stored by Martin Technical for future reference, validation and 3rd party documentation.
Read

More