Description
This 2 or 3 day Electrical Safety for Medium Voltage establishes the minimum standards to protect workers who perform work on or near energized equipment from 1kV to 35kV. The course is based on NFPA 70E, NESC, OSHA 1910.269, 1910.132(D), and 1910.137 standards as well as industry best practices. The training helps meet Qualified Person safety training requirements and the Day 3 includes hands-on activities and real-world scenarios to prepare workers to identify electrical hazards and how to work safe around them.
Students attending this course will gain an immense respect for the power of electricity. They will learn about personal safety for working on or around electrical systems and equipment from 1kV to 35kV, how to use proper materials and procedures for doing electrical work – and the potential consequences for themselves or others if they don't.
Students are given practical instruction applicable to their specific job or task while working on or around energized electrical equipment.
This course also helps companies' meet their OSHA training obligations as outlined in CFR 1910.331-335 and new NFPA 70E® standards that require training once every three years.
Training can be customized to meet any of your particular needs or requirements.
Read

More
Training Objectives
Attendees will learn the following:
OSHA, NESC and NFPA requirement for low vs. medium voltage
Identify medium and high voltage safety hazards
How to choose, use and care for electrical safety PPE
Use safe work practices to help prevent accidents and injuries
Use and care for testing equipment and tools for medium voltage safety
Apply arc flash and shock hazard warning information
Practical applications of electrical safety for common medium voltage equipment
Read

More
Day 3 Hands On Workshop
For the programs that include the Day 3 Medium Voltage Electrical Safety Workshop, students will put their knowledge and skills to test by demonstrating how to safely work on and around medium voltage electrical equipment. Using different scenarios, students must go through the process of creating an electrically safe environment before working including selecting the right PPE and Tools to complete the task, as well as the proper processes.
CEUs
After completion of training, students will receive a Certificate of Completion and .1 CEUs (Continuing Education Units) for each hour of class.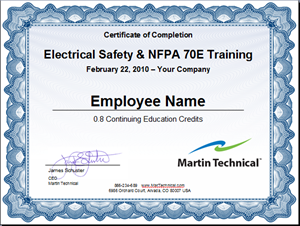 All training certificates will be stored by Martin Technical for future reference, validation and 3rd party documentation.
Read

More