Lockout Tagout Procedure Development
Professional Lockout Procedure Services
Lockout procedures provide detailed instruction on how to isolate and lock each energy source for a given piece of equipment, helping to prevent the startup of machinery or equipment that may result in injuring a worker.  Our team of certified lockout technicians and safety experts work together to provide your team with the most effective and accurate lockout program in the industry.
SCOPE OF LOCKOUT TAGOUT PROCEDURE DEVELOPMENT WORK
Procedures to be developed to isolate any prime movers with two or more energy sources. Lockout Tagout procedures are to be developed in compliance with OSHA CFR 29 1910.147  or international requirements.  Alternative methods and task procedures can also be developed as part of the program.
MARTIN TECHNICAL RAPID LOTO ™ PROGRAM
Martin Technical's RAPID LOTO™ program is a proprietary system developed by Martin Technical that allows faster and more accurate turnaround time on developing LOTO procedures and placards. Our professional lockout technicians use Rapid LOTO lockout software, and an in-field process to label equipment in the field. LOTO placards are developed and reviewed daily, keeping the information at hand relevant and fresh. Placement of the lockout placards on your equipment can often be done the next day.
In Field Labeling Solutions
Energy isolation devices such as electrical disconnect or ball valves often lack identification. Martin Technical uses in-field labeling processes to mark equipment for accurate identification of energy isolation points.
Software & Tablet Application
Rapid LOTO lockout tagout mobile app software program is used by lockout technicians making data collection faster and more efficient.  The data from the tablet is sent to the database where the information can be edited or printed.
Visual LOTO Placards
Visual energy control procedures make following the procedures simple. Our visual placards include smart graphics, color-coordination and photos. Lockout Tagout placards can be customized and arranged to include the data most important for you.
LOCKOUT TAGOUT (LOTO) WORK PROCESS
PHASE I – EQUIPMENT & ENERGY SOURCE DATA COLLECTION
The first phase is to identify all equipment subject to LOTO regulations and the energy sources that feed the equipment. This is the most labor-intensive part of the LOTO program. Equipment is surveyed on-site by a certified lockout tagout field technician experienced and knowledgeable of LOTO processes as well as electrical, mechanical, hydraulic, pneumatic, and thermal equipment.
PHASE II – DEVELOPMENT of LOTO PROCEDURES
Using the information from the data collection phase the procedures are developed for each piece of equipment in accordance with OSHA CFR 29 1910.147.
The procedures for each piece of equipment outline the scope, purpose, authorization, rules, and techniques to be utilized for the control of hazardous energy.
PHASE III – CUSTOMER REVIEW
Written procedures are reviewed by team members and sent to the customer for approval printing the procedures.
PHASE IV – PRINTING OF ENERGY CONTROL PROCEDURES
Procedures are printed, laminated including a quality control check to make sure all procedures have been included.
PHASE V – PLACARD APPLICATION
Lockout Tagout placards will be applied to the appropriate equipment by a certified lockout technician.
PHASE VI – LOCKOUT TAGOUT TRAINING & CONSULTATION
Training for Authorized employees and consultation with management providing proper information to implement the program.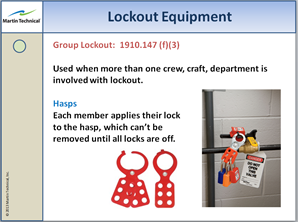 Learn more about Lockout Training 
Request a Quote